THE LATEST NEWS + EVENTS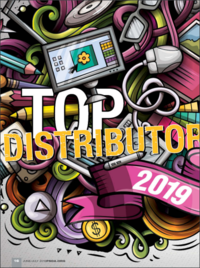 August 9, 2019
DemandBridge Clients are Top Distributors
The June/July 2019 issue of Print Solutions magazine features PSDA's annual article showcasing PSDA member companies with the highest 2018 fiscal year sales. DemandBridge is proud to note that an impressive 78% of the top 45 highest performing distributors are members of our wonderful DemandBridge client family. We are extremely proud of their accomplishments, and proud of our opportunity to play a role, however small, in their outstanding success. They exemplify Industry leadership at its finest.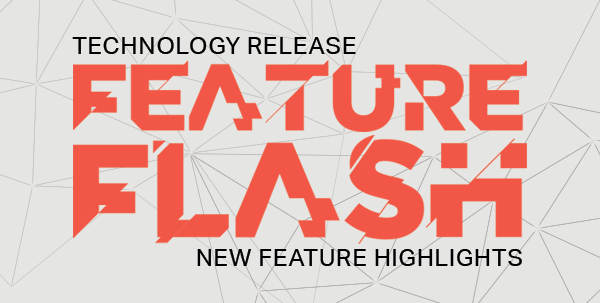 July 1, 2019
In today's Feature Flash, we highlight DB Commerce spending account usability improvements, Q-Design's new web-ready version of print orders, and the new layout for revision notes accessible in e-Quantum.

DB Commerce Spending Account Usability Improvements
Available as of June 5, 2019
DB Commerce supports "Spending Accounts" as a method of payment intended for use as corporate cash, for promotions, etc. These accounts are created/maintained by admin users and granted to the end users during specified time frames, based on user/group, and for use on certain items/catalogs. The setup is quite flexible and supports automatic reload rules, shared accounts, and spending limits. Whatever the settings, any spending accounts that apply to the current order are present in the listing of available payment methods.
The system supports a variety of payment methods, which is both a good thing and a bad thing. For a user with a wide variety of cost centers, credit card options, and spending accounts, it may have been easy to overlook a spending account. Who wouldn't want to take advantage of promotional dollars?! Our product team wanted to make this beneficial feature easier to use. As of June 5th, sites using the spending account feature will notice the following improvements:
 The Billing section at checkout features a call out stating: "You are eligible to use your spending account(s) below".
The first available spending account is now auto-selected.
If "split billing" is enabled (to permit selection of multiple payment methods), then instructions guide the user: "If you would like to split billing, select your first payment method below and click apply. You can add additional payment methods thereafter."
When selecting the spending account for use, the "Amount to be applied to this payment method" value will calculate/pre-populate the lesser of the spending account balance and the remaining order total to be allocated.
The spending account capability remains otherwise unchanged and continues to offer the same flexibility and visibility that it always has. Please contact us for more information on this feature, and to learn how you can take advantage of this for your DB Commerce users.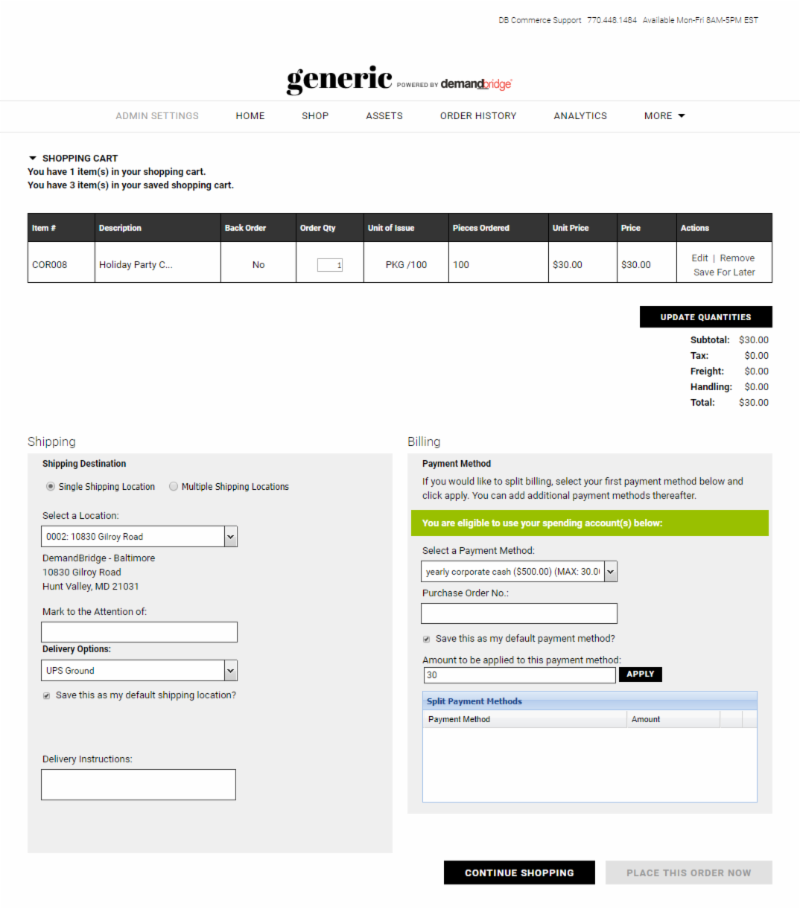 Q-Design Now Includes a Web-Ready Version of Print Orders
Available as of June 5, 2019
Q-Design, our variable template builder, now features the ability for end users to receive a "web-ready" version of their variable print order. In Q-Design, an additional checkbox has been added to the template setup: "Include PNG Link on Confirmation". The previous option "Include Art Link on Confirmation" has been changed to "Include PDF Link on Confirmation". By selecting one or a combination of these two options, the distributor can choose which types of files their ordering user will receive on the order confirmation. The web-ready PNG file will be generated at the same resolution and size as the Preview thumbnail in Q-Design, which is selected by the distributor.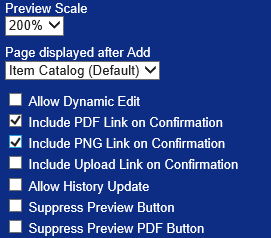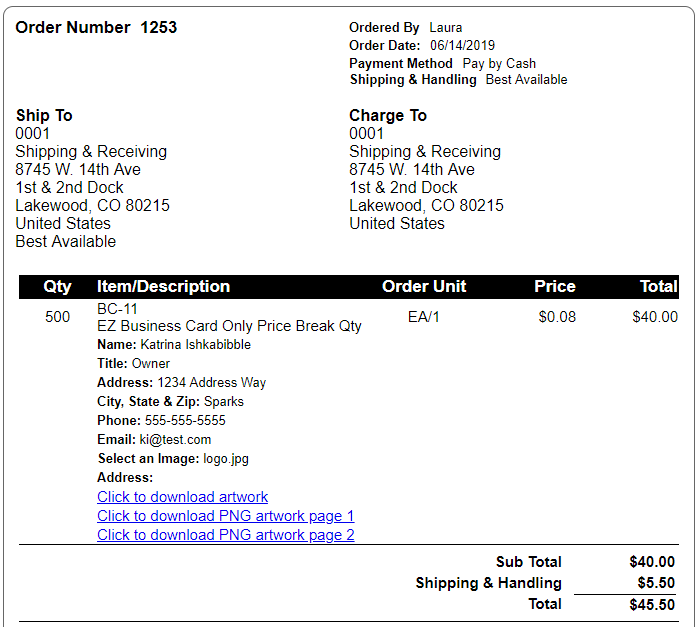 Revision Notes Have a Brand New Layout
Available now
Revision notes are published whenever Quantum Net or e-Quantum is updated, and these pages have recently been updated with a brand-new layout. Revisions are grouped by release date, and each section may be expanded or collapsed individually, or collectively with the Show All and Hide All buttons. When the page is opened, the most recent release is expanded by default, so that any user can quickly view the latest updates.
Revision notes are accessed through e-Quantum in the Help menu > Revision Notes.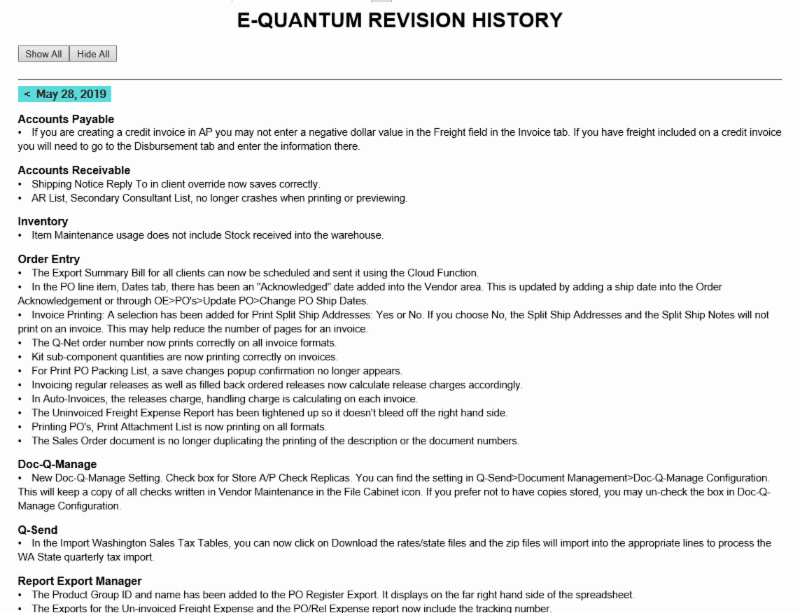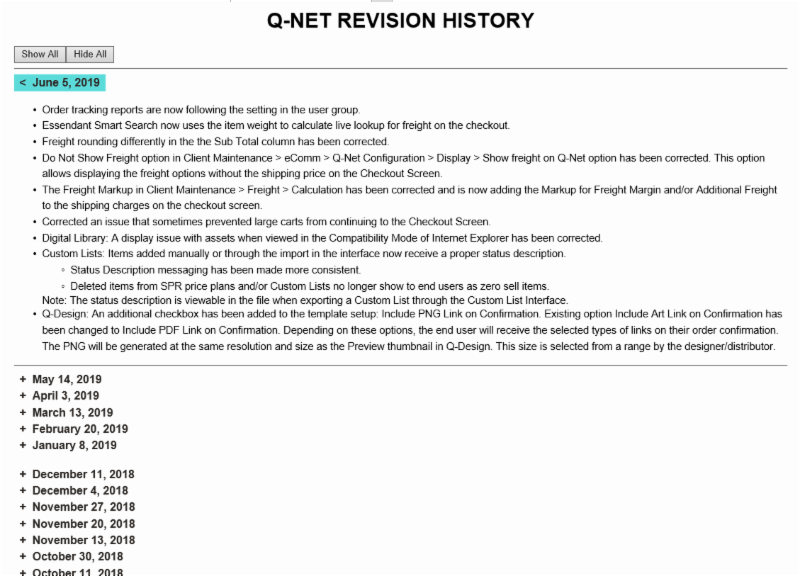 Quarterly Technology Release - Q1 2019
May 1, 2019
DemandBridge is excited to report some of the many developments we have been working on in first quarter 2019, related to product enhancements and new integrations. We strive to provide constant improvements to products, services, and customer support.
In this quarterly review, we'll highlight the following:
The NEW DB Commerce promotional products workflow will let you easily create promotional items that look great and perform even better. Your clients will love the new design! 
Integrations between the existing e-Quantum back-office and DB Commerce will open up a whole new spectrum of options for many Distributor clients and their end users. 
Microsoft's Power BI will allow you to get the metrics you want, customized to the way YOU do business.

More Variety, More Features, More Performance, More Design, More Administration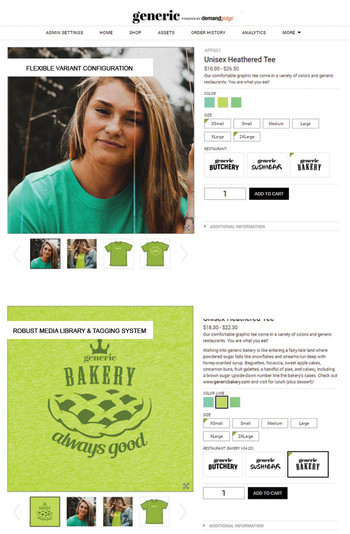 Key Benefits:
Consolidated Item Detail View
Flexible Variant Configuration
Efficient Batch Ordering
Intelligent Volume Pricing Across Cart Contents
Robust Media Library and Tagging System
Detailed Shopping Cart Summary
Modernized Site/Item Administration
 Modernized Site/Item Administration:
Updated Distributor Admin interface.
Items can be configured, assigned to catalogs, and dynamically created in your back-office system right from DB Commerce, bringing essential functions under one roof.
Promo Item setup "wizard" guides administrators through each phase of setup, offering previews of end user experience along the way.
Intelligent item creation streamlines effort to setup individual products for each possible variant configuration.

Product Integration:
DB Commerce to e-Quantum back-office
Connectivity has been a long-time advantage of DB Commerce, facilitating quick site implementations through availability of data, and ensuring current information for items, inventory, and pricing. Our teams have worked diligently to bring that integration to fruition between DB Commerce and e-Quantum, from site creation, all the way to order placement. Equally important are a modern look and feel and feature-rich solutions for customization of marketing materials and options for digital delivery. We look forward to providing you with the efficiencies needed to turn your customer ordering experiences into best in-class solutions.

DB Reporting - Microsoft Power BI
We are pleased to announce use of Microsoft's Power BI reporting within live DB Commerce sites. We've had incremental progress toward our goal of bringing true on-demand reporting to our clients. We first announced an integration to embed Microsoft's Power BI into our DB Commerce offering. Next, we worked with clients to get their data in Microsoft Azure and replicate our system data as well to facilitate reports on consumption and usage through the platform. We partnered with a firm to construct a useful, insightful, and interactive report to showcase key points of content consumption, user adoption, and inventory status. Since then our teams have worked with beta clients to populate these reports with the necessary data and review them online from the end user perspective. We have a team poised and ready to on-board our excited customers!


A Growing Partnership
CHILI publish set to double in size
Mar 27, 2019
The existing integration between CHILI and DB Commerce has already generated much excitement among customers in offering advanced editor capabilities with built-in controls to maintain brand compliance. CHILI publisher frees up time in packaging and marketing artwork creation and enables a more streamlined deployment of creative and budget resources. "Our solution is going from niche to mass thanks to all the applications our customers and partners are creating and the results they are achieving." says Kevin Goeminne, CEO of CHILI publish.
With demand growing, so is CHILI. Goeminne elaborates: "Our customer base, partner range, and market scope are continuously expanding – we are currently recruiting 35 people in Aalst and 10 in Chicago. Brands and partners everywhere need us, so we're staffing up to meet that need. With the right additional people on board, I'm confident we can further expand our technology, conquer new markets and achieve our company mission of shaping tomorrow's graphics."
DemandBridge congratulates CHILI's success and is happy to be a part of its continued growth.

Introducing the DemandBridge Learning Center & Webinar Series
Your home for learning and resources
February 20, 2019
 We are excited to launch the DemandBridge Learning Center, bringing learning online without leaving your office! As part of the learning center, we have developed several knowledge building webinars designed to educate users of the software on best practices, platform navigation, workflow efficiency, setup, configurations, new releases and much more!
  A monthly webinar schedule will be sent in advance so that you may register.  
WHO MAY JOIN Any interested individual and user of the software is invited to participate.
REGISTRATION Webinars require pre-registration and are complimentary, unless noted otherwise.
LENGTH OF WEBINAR Each presentation will be 45 minutes in length and allow for 5-10 minutes of question and answer at the end, moderated by DemandBridge staff.
HOW TO SIGN UP Instructions for connecting to the webinars will be included in the confirmation email upon registration.
Webinars will be archived. A link to the recording of each webinar will be available to all participants in the post-webinar follow-up email. Course materials may accompany if applicable.
Please mark your calendars and register today!
 This month's lineup includes
Site Administration: Company Settings
Product: DB Commerce
February 21, 2019
11am PST, 1pm CT, 2pm EST
 This session will focus on the distributor administrator role within the "Work with Companies" area. We will provide an overview of the myriad of options, and then focus in on those most frequently used. Topics will include (but are not limited to): site theme, splash page, password settings, credit card options, order transmission settings, freight, ship-tos and cost centers, & checkout screen configuration. 
 Site Administration: Items & Vendors
Product: DB Commerce
February 25, 2019
10am PST, 12pm CT, 1pm EST
 This session will focus on the distributor administrator role within the "Work with Items" area and compare that to the subset of options that can be maintained from the customer admin role. We will cover descriptions, images, keywords, customization settings, price options, item specs, catalog assignment, and vendor assignment. We will also visit the "Work with Vendors" area to configure transmission for fulfillment by a supplier.
 Q-Design: Creating Linked Variables
Product: Q-Design
February 28, 2019
11am PST, 1pm CT, 2pm EST
 Add a drop-down option to a completed template to auto populate addresses.

Making Alliances
2019 PSDA CEO Summit Sponsor
February 7, 2019
DemandBridge is excited to sponsor the 2019 PSDA CEO Summit, March 11-13 in Fort Lauderdale where PSDA executive members have the opportunity to connect with the best in the industry, discuss high-level trends, and share ideas and challenges. Last year, more than 80 percent of attendees said they met someone new or renewed a relationship that they expected to lead to new business.
We look forward to seeing you and are eager to discuss our new industry-leading promotional products workflow.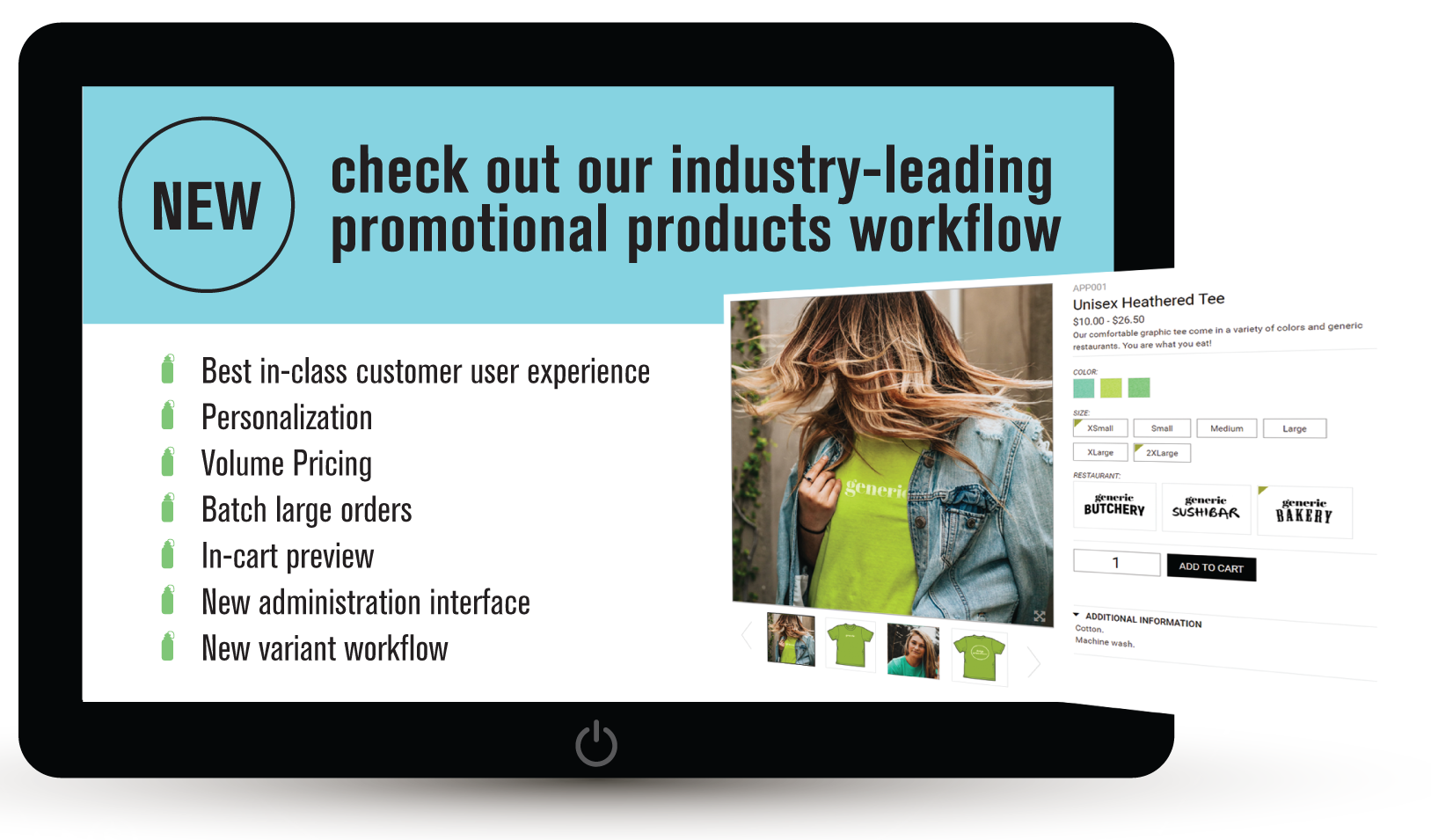 Key Benefits
Consolidated Item Detail View
Flexible Variant Configuration
Efficient Batch Ordering
Intelligent Volume Pricing Across Cart Contents
Robust Media Library and Tagging System
Detailed Shopping Cart Summary
Modernized Site/Item Administration
We will see you soon! Look for the cool gadgets that DemandBridge has waiting for you in your event registration packet.
Top 50 Distributors
December 17, 2018
The November 2018 issue of Print + Promo Magazine features their annual Top 50 Distributors analysis.
DemandBridge is proud to note that 64% of the top 50 highest performing distributors are members of our wonderful DemandBridge client family.
We are extremely proud of their accomplishments, and proud of our opportunity to play a role, however small, in their outstanding success. They exemplify Industry leadership at its finest.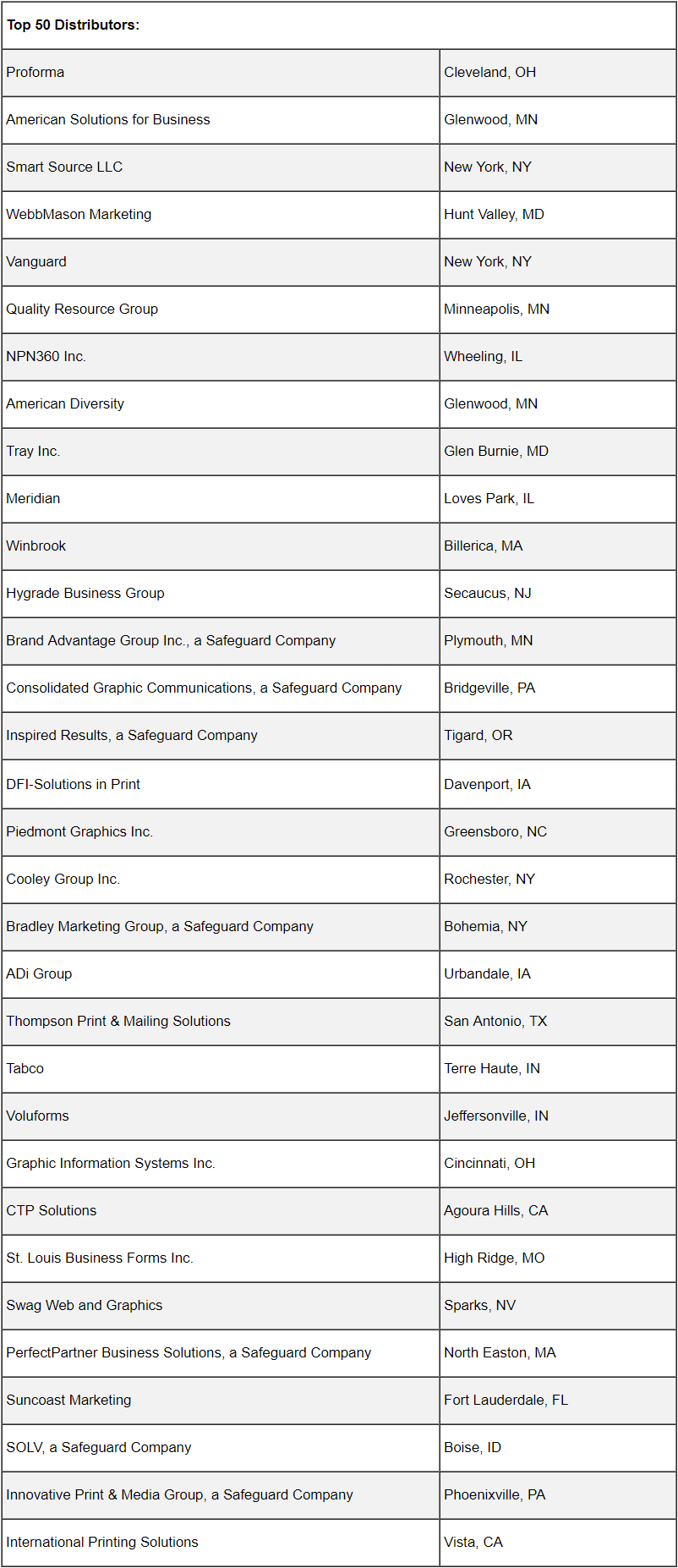 DemandBridge Wishes You Happy Holidays
December 14, 2018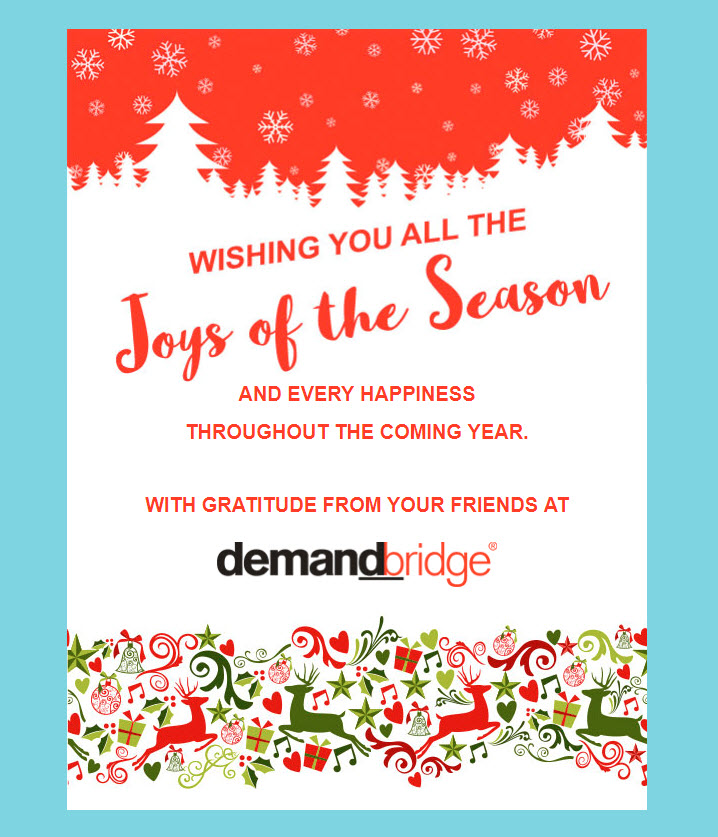 DemandBridge Announces Strategic Alliance
Norcross, Georgia
October 25, 2018
DemandBridge, a dominant Marketing Automation Platform provider to approximately 600 Marketing/Print Services firms, announced today that they have signed a letter-of-intent with The Ampersand Group, agreeing in principle to forge a strategic alliance to provide an array of business services associated with on-boarding, implementation and operating the DemandBridge suite of products. The Ampersand Group, located in Akron, Ohio, has a national network of entrepreneurial business owners who use Ampersand's back office services and sales support to increase sales, reduce costs, increase profits and thus expand their businesses. By offering technology implementation services, finance/accounting services, eCommerce template building, strategic buying services and sales enablement, The Ampersand Group will help their member companies spend more time on revenue generating opportunities.
As part of this new alliance, The Ampersand Group will be implementing the full DemandBridge platform to include the industry leading DB Commerce storefront solution, DB Sourcing and DB Reporting, all powered by Microsoft's Azure Cloud solution and PowerBI (dashboard) tools. This, in addition to the currently provided e-Quantum solution for storefronts and back office support. By also acting as an aggregator of spend for Print, Office products and Promotional goods and fully utilizing DemandBridge's software platforms, The Ampersand Group will help their customers transition to a fully digital organization with a direct connect to the best suppliers in the trade. 
"This partnership is to help all of our customers continue to grow and expand their opportunities. The Ampersand Group has been a terrific customer and now will be a key partner helping our 600 customers take advantage of the complete suite of solutions we have to offer," states Anthony Abunassar, Chief Product Officer for DemandBridge. David Rich, the ex-Accenture CEO of DemandBridge, added that "we welcome The Ampersand Group into the family as we expand our ecosystem of alliance partners." Todd Mellon, CEO/President of The Ampersand Group, said "we are very excited to forge this strategic alliance with DemandBridge, offering an expanded array of business services fully enabled by the complete suite of DemandBridge products."  
DemandBridge is headquartered outside of Atlanta, Georgia with offices in Baltimore, Reno and Dallas. They acquired e-Quantum in October of 2017, Kramer-Smilko in January, announced the creation of a Public/Private Sourcing Exchange in March and recently completed the associated post-merger integration activities.

How Single-Source Software Solutions Can Up Your Marketing Game
Part One
October 25, 2018
DemandBridge CEO, David Rich sat down with Print+Promo to talk about how single-source software solutions can up your marketing game. Check out part one of this two-part series, and check back on 10/30 for the conclusion!
"When seeking a software solution, don't just think of what your best clients need; think of what your next clients need," said DemandBridge Chairman and CEO David Rich. And he should know. With more than 1.2 million registered users and over 3,000 brands across the retail, health care, franchising, financial, energy and nonprofit verticals, his company's successful platform allows distributors to service customers on many aspects of their marketing and sales efforts—from hard goods to full digital distribution of their content. Thanks to single-source software solutions offered by providers like DemandBridge, distributors can take cumbersome marketing efforts and enable those tasks through a user-friendly interface branded to their customers' standards, thereby building true partnerships with end-users. 
By adding that personal touch to the customer experience, print and promotional product specialists have been able to outwit the best attempts of major directs. But as Rich also pointed out, this isn't the same business landscape as before. The conversations between distributors and marketing managers have evolved from low price to what he referred to as "Big Marketing."
 To better understand this concept, we started our own dialogue with the DemandBridge executive. In part one of this two-part series, Rich detailed the needs of marketing teams and how industry software solutions fit in.

... Now It Gets Interesting
2018 PSDA P2P Technology + Innovation Summit Sponsors
October 4, 2018
Exciting things are happening at DemandBridge since expanding our capabilities with the addition of both e-Quantum and Kramer-Smilko. Our team is looking forward to attending and sponsoring the 2018 PSDA P2P Technology + Innovation Summit where we will demonstrate new product integrations, the new DB Commerce white label demo site, new industry-leading promotional products workflow development, and the new quote uploader feature in DB Sourcing. Plus, learn about how to join our exclusive Sourcing Exchange with more than 100 distributors and suppliers (limited space available)!
DB Commerce Connectivity has been a long-time advantage of DB Commerce, facilitating quick site implementations through availability of data, and ensuring current information for items, inventory, and pricing. Our teams have worked diligently this year to bring that integration to fruition between DB Commerce and e-Quantum, from site creation, all the way to order placement. Equally important are a modern look and feel and feature-rich solutions for customization of marketing materials and options for digital delivery. We look forward to sharing our new demo site with you and providing the efficiencies needed to turn your customer ordering experiences into best in class solutions.
DB Sourcing With our new quote uploader, responding to requests for quotes has never been easier. Suppliers can more efficiently serve their distributor partners by exporting output generated from their estimating systems and uploading that output directly into DB Sourcing. Those enrolling in a public exchange can also map their own unique format to the required fields by DB Alliance. Many configuration options are available that provide an opportunity for integration with a wide range of systems. In other news, on the heels of a successful integration between e-Quantum and DB Commerce, our development teams are actively working on making our sourcing solution available to e-Quantum users in Q4.
DB Reporting Our best in breed reporting offering helps you and your clients manage their marketing spend across all aspects of a corporate storefront with access to insights in real-time across their entire global spend. No-longer are the times where a client needs to see canned reports or the customer service team creates spreadsheets at month end. Give your clients 24/7 control and transparency to view/create custom dynamic reports when they need them. Our business analytics tools deliver a 360-degree view across your entire business to help you make decisions now to enable the ability to change outcomes. Give your clients and your business what it needs - real-time action.
More Exciting News...
At DemandBridge, we believe in providing our customers with the highest level of customer service and amongst our priority is increased responsiveness. We are happy to announce that we are deploying the DemandBridge Support Portal, powered by Jira Service Desk, a true ticket and issue tracking platform, across all offices and products. It provides greater efficiencies and consistent customer support. We are also implementing "ONE DEMANDBRIDGE" based on top in class agile development techniques, as our product planning and engineering platform.
Attending the 2018 PSDA Summit?
Please stop by our booth (#137) to learn more! Ask us about the new DB Commerce demo site and get a sneak peek at our promotional products workflow. Unable to attend the 2018 PSDA P2P Summit? Contact us for more information by emailing info@demandbridge.com.

Announcement of Office Relocation for Kramer-Smilko, Inc.
Home New Sweet Home
August 14, 2018
We are proud to announce that effective August 31, 2018, our Kramer-Smilko office in Bel Air, MD will be relocating and combining with our DemandBridge office in Hunt Valley, MD. The new address is 10830 Gilroy Road, Hunt Valley, MD 21031. Our office number will remain the same, unless otherwise notified, as 410 569 5725.
We are very excited about this move and, as always, remain committed to providing the same excellent services you have come to expect.
Same Great People, Software & Solutions in a Bright New Office!
DemandBridge is Sponsoring the 2018 PSDA P2P Technology + Innovation Summit in Indianapolis
Where print and technology come together.
June 30, 2018
P2P is the only conference that combines print and technology. Discover the technology you need to grow your product portfolio and remain competitive in our ever-evolving industry. From dedicated demos to let you see technology in action to education sessions on four dedicated tracks (Technology, Products, Sales & Marketing, and CSRs), the 2018 P2P is the perfect mix of valuable education and dedicated networking time. Join us October 17-19, 2018 in Indianapolis to learn what DemandBridge has been working on for the last several months and how these tools provide leading edge technology to help grow your business. Stop by and see us at Booth 137 and ask us about the following:
DB Commerce DB Commerce (formerly DB Enterprise) provides a world class customer experience with real-time editing (Chili Publisher) and a full suite of digital content options to truly offer your clients the most complete marketing platform available. Users arrive at a brand-specific site where their permissions dictate what they see and how it is presented. Regulatory measures may be employed for business rules during customization, asset management, approvals, title compliance, budget, etc. Integrations simplify steps from single sign-on to data imports, or order processing from partner networks. DB Commerce now also includes a two-way integration to SalesForce CRM.
DB Reporting Any data, any way, anywhere and in one view. Imagine your DB Commerce, DB Sourcing and DB Distributor data living together in one consolidated view. This is now possible with our move to the Azure cloud and the deployment of Power BI. In this webinar, we will demonstrate the Power of DB Reporting and the ease with which you can design your own custom reports. We will view live examples of our first set of standard dashboards that showcase visualizations of total sped, order count, items ordered and shipment summary. Whether it is delivering the information your customers need in a customized format, brand, and layout, or internal management and data analytics, DB Reporting is the solution.
DB Sourcing + the DB Alliance Sourcing Exchange  Whether your preference is for a private supplier network or a true sourcing exchange, Demand Bridge has the solution for you. DB Sourcing is an industry-specific, fully integrated tool that puts sourcing and project management at the users' fingertips; empowering them to organize, quote, and manage jobs more effectively. The DB Alliance Sourcing Exchange aggregates the collective purchasing power of distributors and brings suppliers to one marketplace benefiting distributors and suppliers alike.

Your vision. Your cloud.
Turn your ideas into solutions faster using a trusted cloud that is designed for you.
May 21, 2018
The term cloud computing is everywhere! Widespread adoption of cloud computing and the evolution of the end-user experience are dramatically changing business operations. Commonly, "the cloud" is mentioned and confusion ensues, but the reality is cloud computing provides a powerful and important force of change. There are many players in this space offering cloud services and amongst the more notable is Microsoft Azure. Here we explore the many opportunities migrating to the cloud offers as well as an introduction to Azure Cloud Collaboration Center, a first-of-its-kind facility that combines innovation and scale to address operational issues and unexpected events in order to drive new levels of customer responsiveness, security and efficiency.
Migrating your apps, data and infrastructure to Azure is easier than ever
The Azure Cloud Collaboration Center: A First-of-Its Kind Facility
DemandBridge Provides Faster Product Releases and Updates with Cloud Foundry
When you need to build and scale services more quickly than your platform allows, what's the solution?
April 12, 2018
DemandBridge, a marketing software provider that sells brand management platforms to marketers, turned to Cloud Foundry to meet customers' growing expectations for speed and customer experience in a cloud-based era.
DemandBridge previously operated its SaaS platform with a monolithic Java application on a large WebLogic application server. Moving to the cloud was a key element in their road map to prepare for growth, but just doing a lift-and-shift to a public cloud was not enough to meet their needs. "It was just a lot for us to keep up with, especially modifying our production application, which was getting bigger and bigger every time we did a release," said Amer Mallah, Chief Technology Officer at DemandBridge.

e-Quantum V12 Updates + Enhancements
We're excited to announce our latest software improvements.
April 3, 2018
Our programming and quality control departments have been hard at work and we're very excited to announce some improvements we've made to Version 12 of the e-Quantum program. We've listed some high-level changes below, and we'll also be discussing them in more detail in our upcoming, complimentary webinars.
NEW SALES ORDERS
Avoid redundancy and connect related documents with Sales Orders: Enter order information once into the Sales Order and e-Quantum will do the rest, automatically creating any documents you need.
PAYPAL INTEGRATION
You can now process credit cards using PayPal. PayPal is joining Authorize.net and PayTrace in the list of credit card processors that are both PCI compliant and integrated with e-Quantum and Quantum Net.
IMPROVED INTERFACE DESIGN
New search options in Client Maintenance
Simple navigation from Invoice Editing to a PO or Warehouse Release
CSR code auto-fill
Enhanced readability of reports with the Greenbar Effect
To-Do Lists to help you stay on track
New navigation to access commonly used features
REGISTER FOR A WEBINAR TO LEARN MORE ABOUT OUR V12 UPDATES!
We will be hosting 3 webinars in the upcoming weeks to familiarize you with the exciting new features of e-Quantum Version 12. Three dates are offered for your convenience and all sessions will be held at 11am PDT (1pm CDT, 2pm EDT).
Tuesday April 3, 2018 
Tuesday April 10, 2018 
Thursday April 12, 2018
Mark your calendars and contact us at 800 328 7804 to register.

DemandBridge Named Exclusive Technology/Integration Partner of New Sourcing Exchange Launched by WebbMason Marketing, SupplyLogic, and Winbrook to Facilitate and Strengthen Connections Between Distributors and Supplier Partners
Norcross, Georgia
March 6, 2018
DemandBridge, an integrated business platform delivering seamless marketing solutions in the cloud, has been selected as the exclusive technology/integration partner of a new sourcing exchange. WebbMason Marketing, SupplyLogic, and Winbrook announced today they will be the initial founders/board members of this sourcing exchange that aggregates their collective spend and suppliers in one marketplace. One that they hope other distributors and suppliers will join as charter members/participants. They also announced selecting DemandBridge, an integrated business platform delivering seamless marketing solutions in the cloud, as the exclusive technology/integration partner. DemandBridge, who recently acquired e-Quantum and Kramer- Smilko, provides mission-critical ERP and eCommerce solutions to approximately 600 distributors. Their flagship sourcing platform (DB Alliance) will facilitate the virtual marketplace. In addition to DB Alliance, DemandBridge announced plans to continue investing in its next generation eCommerce, ERP and reporting/analytics platforms by integrating them with the e-Quantum and Kramer-Smilko product lines. Together, these Microsoft (Azure) cloud-hosted tools will cost effectively empower distributors and their supplier partners to improve efficiency, win business, and increase their revenues/profits.
Warner Mason, CEO of WebbMason Marketing, said..."We have seen dramatically improved results using the DemandBridge tools in our private marketplace. To the tune of several points of gross margin with room for more." He also added, "We are excited to have the other founders join us in the launch, along with the charter members soon to follow with their spends and preferred suppliers. This will only serve to improve the collective results while continuously improving our processes/tools." Kevin Sherlock, CEO of SupplyLogic agrees... "As others join us and this marketplace grows, this will give us the same collective purchasing power of our larger competitors along with improved customer experience." He also added, "This allows us to pursue (and win) much larger contracts."
At its heart, DB Alliance is an industry-specific, fully integrated tool that puts sourcing and project management at the users' fingertips; empowering them to organize, quote, and manage jobs more effectively. As more distributors and suppliers have joined the DB Alliance network, it has evolved into a true sourcing exchange aimed at helping those companies in their journeys to become fully digital organizations, thus, improving speed to market and growing their bottom lines. David Rich, CEO of DemandBridge, and the one leading the technology consolidation in the industry, commented... "The goal of our recent consolidation efforts is to better provide the industry with the technology platforms and services they need to successfully compete and to run their businesses. To the extent our 600 customers can standardize on the same tools, offering industry-shared services like Sourcing, Finance and Accounting, Back Office IT/Integration and end Client on-boarding services (e.g. eCommerce site/template building) becomes more achievable.
"Better to have their Back Office taken care of by someone solely focused on those activities. This sourcing exchange is a good example," Rich said. Once created it will be powerful value-add from DemandBridge and its alliance partners. By outsourcing these activities, distributors can focus on what they do best, which is selling and delivering high quality print solutions and promotional goods...while exploring new types of marketing services they can provide to the loyal customers and brands they serve.
Creating Symbiotic Relationships: We're Strongest Together
Customers and brands count on distributors to help them achieve the best possible pricing for their print, promotional goods and marketing services needs. Distributors rely on technology partners to provide robust solutions to help them enable these services so they can win and keep accounts. At the end of the chain, suppliers crave access and opportunity...and help the distributors meet end customer needs.
Distributors can leverage their combined spend along with their peers in the industry to lower costs and increase margins
Customers receive market-competitive pricing as jobs are sourced to industry-vetted suppliers
Suppliers receive quote requests and job specifications from their various distributor partners in a
Robust supplier profile features help differentiate manufacturers from their competitors,
Everyone benefits from increased efficiency in quoting and order entry processes, less offline
"DB Alliance puts the data your users need to move projects forward front and center, and provides a single forum for job-related activities," says Tony Abunasser, CSO of DemandBridge, who will be the General Manager of the exchange..."It moves the process from days to hours, and from loose notes to one tool."
Organized & Easy: Distributors Gain Control, Deliver Value
"Distributors who want to grow their businesses need more than they have received over the past few years. They crave technology that's innovative and customizable," says Scott Lattanzio, President/Managing Partner of Winbrook. "That is where DemandBridge comes in."
Smart buying: With DB Alliance, business owners can create approval rules to gain more insight into their users' buying processes. Rules — and exemptions — are easy to create and can include multiple parameters (number of suppliers solicited, item cost, product type, etc.) to ensure that employees follow smart buying practices.
Clear reports and insights: Real-time job tracking and dashboard-style reports — ideal for companies that must comply with contract/guaranteed pricing — allow users to analyze cost savings and buying patterns, and track metrics their clients care about.
A single platform: DB Alliance interfaces directly with our proprietary accounting and inventory management solution, DB Distributor, so key information regarding customers, items, suppliers, and orders syncs seamlessly between the two products — eliminating redundancies across systems, and negating the need for third party systems of record and costly integrations.
"DB Alliance arms Distributors with much-needed insight into their supplier base, and arms suppliers with much-needed access into new opportunities," Abunassar says. "The power of their alliance is that connection, and our technology makes this happen quickly and easily."

DemandBridge is Featured as a SPICY star in the CHILI Publish "SPICY talks 2018"
Self-service tech your business. Make the difference.
March 6, 2018
Amer Mallah, our Chief Technology Officer, and Michelle Bengermino, VP of Product Management, are both key speakers at SPICY talks 2018. This CHILI Publish conference is March 7-9 in Amsterdam, and we'll be speaking about the integration of CHILI Publish into our eCommerce product, DB Enterprise.
Whether you're a commercial, packaging or label printer, a creative professional at an agency, or Head of Digital at (insert brand owner name), self-service your business with the technology you need to make the difference.
Create, connect and generate your type of assets. Beat the market shift - lift your offering to the next level.
Find out how at #SPICYtalks18.
DemandBridge is Sponsoring the 2018 PSDA CEO Summit in Scottsdale, Arizona
CEO Summit: Where the Industry's Top Influencers Gather
February 23, 2018
Our industry is constantly changing and evolving. How can you find out where it will lead? Start in Scottsdale.
Once every year, PSDA gives their executive members the opportunity to connect with the best in the industry, discuss high-level trends, and share ideas and challenges. Make sure you are part of the conversation. Join us March 5-7, 2018 in Scottsdale to discover the strategies to give your company an edge in 2018 and to learn more about how DemandBridge can assist in that growth. Last year was a monumental year as we "REIMAGINED" our company, and this year is shaping up to be even better. Come see us to learn about some of our strategic plans for 2018. 
Launch of the DB Alliance sourcing exchange
Acquisition of Kramer-Smilko, Inc.
Improved Business Intelligence/Reporting
Azure migration for newly integrated product lines

DemandBridge Announces Acquisition of Kramer-Smilko, Inc. Taking Another Step in Strategic Consolidation to Become a Leader in the Marketing Automation Software Industry
Norcross, Georgia
January 29, 2018
DemandBridge, an integrated business platform delivering seamless marketing solutions in the cloud, today announced the acquisition of Kramer-Smilko, Inc. The acquisition furthers DemandBridge's commitment to empower Distributors/Agencies with total quality control over their business, and the ability to maximize efficiency utilizing market-leading software and products. It also demonstrates the value of strategic partnerships and the commitment to providing the tools and expertise to enable their customers to grow. The new company will retain the DemandBridge name.
DemandBridge and Kramer-Smilko, Inc. have been providing premier Distributor Management software for more than 30 years. With the recent union of e-Quantum, Inc., together, the three companies bring more than 90 years of experience and growth within and beyond the Independent Print Services Industry. The Independent Print Services Industry is undergoing a period of intense change that is rejuvenating the competitive landscape in an attempt to embrace and empower technology innovations. The new, independent company will be led by current DemandBridge CEO David Rich, who himself brings more than 35 years of Enterprise IT experience. John Smilko will remain with DemandBridge in his current capacity. DemandBridge will combine the vision, talent, technology prowess and investments of all strategic acquisitions in order to remain vital and competitive in the marketing automation software industry. Together, the new company will evolve and transition its products to leverage DemandBridge's presence on the Microsoft Azure Cloud and to integrate technologies in the pipeline—from Microsoft PowerBI and Cloud Foundry, to other digital marketing technologies planned for 2018 and beyond. The combination and strategic focus will offer the scale, strength and flexibility to help customers and partners succeed with minimal disruption and the same/improved level of customer service.
ABOUT DEMANDBRIDGE
For years, the industry has known DemandBridge for its complete set of end-to-end tools—that is, technology that connects a company's accounting, operations and inventory systems, as well as an e-Commerce portal and sourcing tool for on-demand marketing, promotion and print services. That technology is used by some of the industry's largest Distributors/Agencies, over 3,000 loyal brands and 1.2 million registered users. The collective spend under management makes it one of the biggest Marketing Execution Platforms available in the market.
"We continue to uncover opportunities to help our clients succeed in new ways," said CEO David Rich. "End user demands are changing, the brands themselves are changing, and the goals of our forward-thinking Distributor/Agency/Corporate customers are evolving accordingly," Rich continued. "Simply put, Marketing Service Providers who want to grow their businesses beyond traditional services (i.e. Print/Promotional goods)...will need more enabling technology than the previous generations. By consolidating the talents of DemandBridge, e-Quantum and Kramer- Smilko...and together with customers who have expressed willingness to co-develop with us...we will take a major step forward to providing the resources and technology platforms this industry needs to confidently approach business in the 2020's."
ABOUT KRAMER-SMILKO, INC.
Kramer-Smilko, Inc. has served the print sourcing and distribution market for 38 years. The software platform they have built, sold and supported now processes half a billion dollars in annual sales for its customer base. Kramer-Smilko has a strong presence in health care, banking, finance, and insurance, providing very sophisticated e-Commerce based supply chain management services. In addition to classic print management and distribution, they have integrated office supplies, print on-demand, digital content management, one-to-one marketing, promotional products, 3rd party fulfillment, and MRO inventory capabilities into its offerings.
"This combination expands DemandBridge's industry footprint, furthering DemandBridge's growth and technology consolidation strategy," said Kramer-Smilko Owner John Smilko. "In order to leverage our capabilities and do what the industry requires with respect to platform development, we must have the strength of numbers that this partnership brings," he continued. "Together, we will have the broadest, most integrated suite of products and services for Distributors, Agencies, and Corporations and the resources to grow along with our customers. Everybody wins!"
Company locations and corporate headquarters will remain the same.

DB Alliance Updates + Enhancements
We're excited to announce our latest software improvements.
January 10, 2018
Greetings and Happy New Year from DemandBridge! We're very excited to announce some improvements we've made to DB Alliance. We've listed some high-level changes below, and we'll also be discussing them in more detail in our upcoming, complimentary webinars.
IMPROVED INTERFACE DESIGN
As part of a larger company-wide effort to update the look and feel of our products, we've begun introducing new UI elements to both the supplier and distributor-facing areas of the application—most notably on the supplier user dashboard, supplier profile (and corresponding distributor views), and in the universal display of product specs and revisions. We engaged our UX designer to deliver a more structured and organized display of this often complex information.
SUPPLIER PROFILE + SEARCH ENHANCEMENTS
We've taken several steps to improve supplier visibility within DB Alliance and to encourage them to adopt the technology you've chosen for your business. In a relatively short timeframe, we were able to improve upon many of the supplier attributes (specialties, equipment, certifications, locations) and the UI elements used to manage them. These changes were made in tandem with other performance enhancements to the supplier search functionality, all of which were geared toward making it faster and easier to find the right supplier for the job.